Cee Lo Green – The Lady Killer Album Review
25 June
"Fuck You."
Can you remember a single blowing up in such a huge way while touting such an awesomely profane and awesomely catchy hook?  Everyone's heard "Fuck You."  If you haven't, you need to gather up the strength to push aside that rock you've been living under.  And everyone loves "Fuck You" – well, unless you're an uptight priss who can't take a little naughtiness with your hit songs (and seriously, don't even bother with the censored version.  You lose all the delicious venom that way).
"Fuck You" is one of those songs that makes you feel empowered about feeling bad.  And despite hearing it literally everywhere, I still smile every time I hear those opening chords.  Songs like "Fuck You" tend to come with a caveat, though.  Hits this huge can dominate and overshadow the rest of the albums they appear on.  Cee Lo Green probably knows a little about that – after all, his band Gnarls Barkley wrote the iconic "Crazy."  But that's the best thing about "Fuck You" – it fits effortlessly into Cee Lo's new solo record, The Lady Killer, without threatening everything that comes after it.  It plays nice.  Which is a good thing, because The Lady Killer has a lot of non-"Fuck You" to offer.
This album is bookended by "The Lady Killer Theme" intros and outros.  They serve as a sort of James Bond-esque title and credits score, setting the scene for an album that dives into all the kinds of love affairs that would make Sean Connery proud.  And Cee Lo definitely plays the part of the seductive lover, channeling by turns Hugh Hefner and Pepe Le Pew, but sticking mostly to the classic bedrocks of soul lover-men.
It's amazing how not-of-this-time this record sounds.  Most of the tracks just scream out to their Motown roots, and it's clear Cee Lo has spent a great deal of time learning at the knee of the classics.  But there are two very distinct features to this album that keep it squarely located in the present.  For starters, Cee Lo came up in the music biz as a part of Goodie Mob, and that hip-hop background distinctly informs this music.  The standard bass guitar beats that served as the backbone to many classic soul cuts is now replaced by hip-hop snares and electronic bass.  It's not sacrilege, it's diffusion.  And secondly, the thing that makes this record utterly unique is Cee Lo's voice, naturally.  This rotund man with the effortlessly perfect smile is the possessor of a set of massive, live wire pipes that are completely original.  If there's a singer who sounds like Cee Lo, I haven't heard him yet.  In fact, the biggest misstep on this record is "Love Gun" where Cee Lo cedes the mic to Lauren Bennett who turns in a limp performance that wilts under the shadow of Mr. Green's impassioned wailing.
The Lady Killer could be called "new soul" but two of the best songs don't necessarily fit that description – the 80′s synth jam "Bright Lights Bigger City" and "Old Fashioned" – the latter of which is soul, pure and simple, with nothing new about it (hence the title).  It's the kind of song I could picture Richie Cunningham and Lori Beth dancing to on the jukebox.  And given the strong classic influences at work on this record, you'd think the penultimate track "No One's Gonna Love You" would be a cover of The S.O.S. Band's hit, but instead, in a stroke of brilliance, it's a stark, visceral take on the Band of Horses track.
To use Cee Lo's own words, this album is "right on time / and it's timeless."
Rating: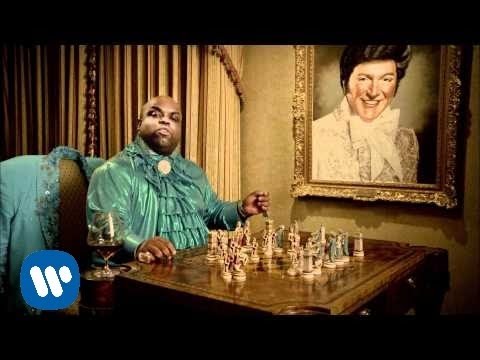 -Sam