Concert Review: The Blanks, 06/27/10
27 June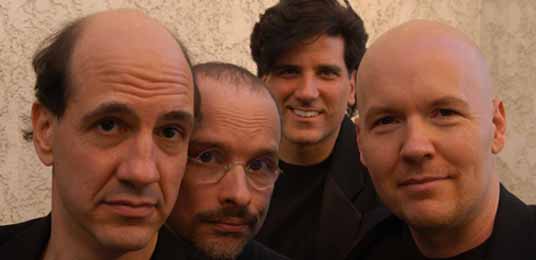 If you've never watched the TV show Scrubs (first of all, what is wrong with you?), then you wouldn't be familiar with lowly lawyer Theodore Buckland, aka Ted, and his unassuming band of barbershop quartet a cappella buddies.  In the show they are known either as The Worthless Peons or simply Ted's Band.  In real life, the four guys (Sam Lloyd, Philip McNiven, George Miserlis, and Paul Perry) actually are in an a cappella group together called The Blanks.
I'm a huge fan of Scrubs (minus the unnecessary and derivative ninth and final season) so it was with much delight when I was walking around Annapolis, MD that I saw a poster on the window of a restaurant/small concert venue announcing that The Blanks would be playing a Sunday matinee show this weekend!  Count me in.
If you aren't familiar with The Blanks, just imagine your dad and three of his nerdy friends getting together to sing TV theme songs (real and original), classic rock tunes, and lighthearted jokey comedic songs.  Toss in some humorous between-song sketches and you've got The Blanks.
The one question that always arises when someone is trying to reproduce what they did on television in front of a live audience is, how much help did they get from the editing room?  I'm happy to report that The Blanks are in no such need of any technical wizardry to hide behind.  They've all got great, clear voices that filled the room and worked well together within the different arrangements.
They covered most of the songs that appeared on Scrubs, including a rather beautiful rendition of "Over the Rainbow" (which you'll remember came from the great Wizard of Oz-themed episode).  But most of those songs were the short theme songs.  The Blanks really shined when they stretched out a little and put together longer (relatively) arrangements like with the original song "A Little Polish" (as in shoe polish, not someone from Poland).
Apart from being really good singers, The Blanks are showmen and comedians at heart.  They had a running "story line" which tied the whole show together and their between-song comedy routines were great for adding variety to the show.  Also adding variety were the "guest singers," otherwise known as plastic toys and dolls like Mr. Pumpkin Head and Captain Commando who come equipped with programmed sound snippets that the guys creatively wove into songs.
The highlights of the show were the classic rock montage featuring "Don't Fear the Reaper" and "Carry on My Wayward Son," the Solid Gold oldies bit, and the absolutely hilarious show closer "Maniac" featuring a dancing Mrs. Claus figure.  That's all I'll say about that, but if you are interested in checking these guys out, they have some upcoming dates in the northeast later this summer.  They are a perfect group to bring your parents to because they keep everything clean, but you'll still laugh a lot and have a good time.
(My only gripe?  I was hoping they'd bring out the Gooch as a special guest.)
-Sam
One Response to "Concert Review: The Blanks, 06/27/10"