Disturbed – Asylum Album Review
22 February
The DVD included with the deluxe edition of Disturbed's fifth album, Asylum, is called "Decade of Disturbed."  In those ten years, Disturbed has managed to do something that can only be claimed by two other groups – Metallica and Dave Matthews Band:  With Asylum, they've achieved the rare feat of having four consecutive studio albums debut at No. 1 on the Billboard charts.
It serves as a pretty good reminder that these Chicago metallers are second-to-none when it comes to consistently churning out a brand of metal that a wide swath of people can get behind.  They're the furthest thing from a niche band in metal that you'll find.
I'd imagine another reason for this tremendous success is due to the band's unwillingness to rock the boat too much.  Any changes from one album to the next are either incremental or virtually non-existent.  While this makes for a rather homogeneous song catalog that may come across as either boring or lazy to some, I think it's just a case of the group knowing what sound works best for them and working to perfect it.  Kind of an "if it ain't broke don't fix it" mentality.  And as far as I'm concerned, Disturbed's sound ain't broke.
So really, if you already know Disturbed, then this album isn't going to shock you in any way, shape or form.  However, if you've been living under a rock for the last ten years, you'll be introduced to all of the band's trademarks – hammering drums, serrated guitar riffs, singer David Draiman's unique staccato growls, and meticulously crafted pop-metal songwriting that shaves off anything extraneous.
If there is anything new that has been brought to the table this time around, it's the ever-increasing prominence of guitarist Dan Donegan.  This is something that has been slowly coming about since around the release of the group's third album, Ten Thousand Fists, and it can only be good for the group.  You see, while Draiman gets most of the attention for his trademark pipes, this band is driven by Donegan (who also produced Asylum).  He's wildly underrated as an axeman, in my opinion, but he's written some of the best, if not overly complicated, riffs in metal over the past ten years.  Up to this point, I feel like he has been swept under the rug because of the fact that Disturbed's music tends to keep it simple.  But writing catchy riffs is just as hard as busting out a sweet solo.  The nice part about Asylum is that we finally get to really hear him do both.  Now, I'm not saying that Disturbed has suddenly turned into a guitar-centric band, but it's nice to hear the slow build Donegan provides in the instrumental (another rarity for the band) opener "Remnants" and the fret-tapping goodness of his solo on "The Infection."
Disturbed is also furthering a trend they've been delving into on past records by exploring some lyrical issues outside their normal realm of anger, fear, power and general mental darkness.  Have no fear, those topics are still here in abundance, but they also address global warming ("Another Way To Die") and the Holocaust ("Never Again").
To close the album, there's yet another one of the band's trademarks – a cover song of a band that made it big in the Eigthies.  In the past, they've covered the likes of Genesis and Tears for Fears.   This time around, it's U2 and "ISHFWILF" or "I Still Haven't Found What I'm Looking For".  Not surprisingly, they mold their thumping grooves to the song and turn it into a rocking metal track.  I would just say that I really doubt Disturbed hasn't found what they are looking for.  It seems quite apparent that they've found exactly what they're looking for and are more than happy to stick with it.  Fine by me.
Rating: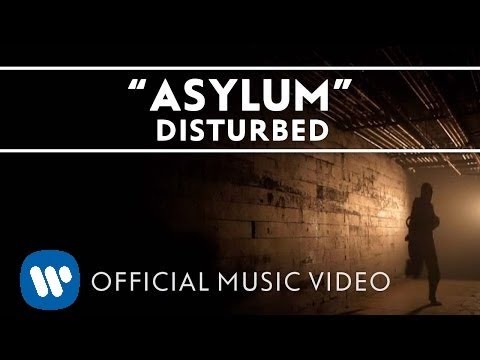 -Sam
3 Responses to "Disturbed – Asylum Album Review"