Lissie – Catching A Tiger Album Review
11 October
Author: Sam
Lissie (full name Elisabeth Maurus) first came to my attention (and undoubtedly many others) when she posted an exquisitely triumphant live cover of Kid Cudi's hit song "Pursuit of Happiness" on YouTube.
The performance had all the hallmarks of a great cover – the song's foundation remained firmly in place so that it was recognizably derived from the original, but it was presented with just enough new context and impassioned delivery to make it an entirely new experience unto itself.
Lissie then saw increased traffic flowing to two earlier covers that she had also posted to YouTube – one for Metallica's "Nothing Else Matters" and the other for Lady Gaga's "Bad Romance".  Both songs further established Lissie as an artist with undeniable talent.  But the question remained – could she pull off the same magic with her own original songs?
After all, it's pretty hard to make a career solely as a YouTube cover artist.
With her debut album, Catching a Tiger, Lissie  shows that while her original material can't quite yet hold a candle to her interpretations, they display an unmistakable promise.  She's a unique voice headed in the right direction.
Let's start off with that voice.  It's strong, unwavering, and tinged with a youthful vibrancy, but at the same time sounds coated in years of whiskey and smoke.  The opening track alone, "Record Collector", sees her showing off her range all the way from the spiritual low notes to the belted high ones.  Even when she's bouncing along in a half-spoken fashion, it sounds great.
Her tunes typically combine the influences of classic rock, modern alternative, pop songstresses, country, blues and folk.  The resulting goulash manages to sound familiar and new all at once.  But as with most singer-songwriters, the songs themselves ultimately live and die by the backing arrangements.  Working with a cast of producers (Jacquire King, Bill Reynolds, Julian Emery, and Ed Harcourt) and a capable backing band, Lissie predictably makes solid contact on most of the tracks, while rarely striking out – there's just not any home runs.
As with most albums of this sort, the duration can feel drawn out without any notable spikes.  It's fully expected going in that the vocals are going to carry the album, but the arrangements can't simply be content to play a supporting role for the entirety.  The closest this comes to happening is on "Bully" when the song progresses towards a cluster of hazy guitar chords that match the singing and on "Stranger" which could pass for a 60s pop gem.  But the best song on the record requires barely any instrumentation other than a piano and Lissie's voice.  Album closer "Oh Mississippi" is a stark ode to that quintessentially American waterway and the promises of exploration and freedom that the West once symbolized.  It's a perfectly natural song for a singer so deeply rooted in the soil of the mid-west.  And it's a perfect note to end the album on – as a promising young artist prepares to begin a whole new phase of musical discovery.
Rating: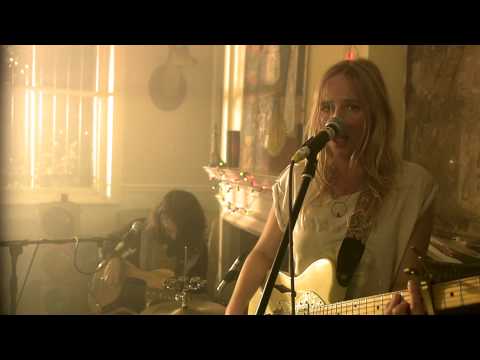 -Sam
This entry was posted on Monday, October 11th, 2010 at 9:51 pm and is filed under
Artists
,
New Release
,
Releases
,
Reviews
. You can follow any responses to this entry through the
RSS 2.0
feed. Both comments and pings are currently closed.
3 Responses to "Lissie – Catching A Tiger Album Review"