Lissie – Covered Up With Flowers EP Review
19 November
Author: Sam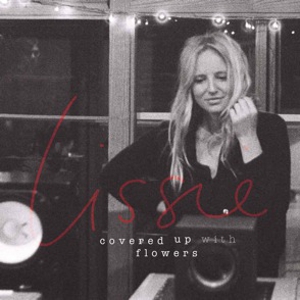 It's been an EP kinda last month or so for me, and today I've got another one.  This one comes from midwestern folk-pop songstress Lissie.  Its title, Covered Up With Flowers, hints that its a covers record, which indeed it is.
When I reviewed Lissie's debut album, Catching a Tiger, last year, I led off with the following:
"Lissie (full name Elisabeth Maurus) first came to my attention (and undoubtedly many others) when she posted an exquisitely triumphant live cover of Kid Cudi's hit song "Pursuit of Happiness" on YouTube.
The performance had all the hallmarks of a great cover – the song's foundation remained firmly in place so that it was recognizably derived from the original, but it was presented with just enough new context and impassioned delivery to make it an entirely new experience unto itself."
On this covers EP, she's returning to that sweet spot, reimagining smash hits to suit her own style while still being smart enough not to mess too much with a good thing.
The disc starts off with the live version of her Kid Cudi homage that you've probably all heard at this point (at least, I really hope you have, otherwise you're sorely missing out).  It's one thing for a folkie to cover a hip-hop song.  It's quite another for a folkie to cover one of the greatest hip-hop songs of recent memory and succeed in creating what may be one of the greatest cover songs in recent memory.  But Lissie's no one-trick pony.  She tries her hand at pop, replacing some of Lady Gaga's bombast with a sullen sultriness on "Bad Romance," and her downtrodden moans and the smoldering slow-burning solo on "Nothing Else Matters" would warm the hearts of even the most jaded metalheads.
But those tracks have all made their way around the web for a while now, so she's thrown in two new covers to keep things fresh.  "Games People Play" is a Joe South track that was probably most in her wheelhouse out of any of the five songs on this EP.  And "The Ship Song," a Nick Cave cover, closes things out beautifully.  Lissie's clearly got a gift for this whole covers thing, and if you're a fan of hers, this EP is a must-have.  And if you're not a fan of hers yet, these songs just might make you into one.  After all, that's how I got on board.
Rating:
-Sam
This entry was posted on Saturday, November 19th, 2011 at 9:07 pm and is filed under
Artists
,
New Release
,
Releases
,
Reviews
. You can follow any responses to this entry through the
RSS 2.0
feed. Both comments and pings are currently closed.
Comments are closed.