Mose Giganticus – Gift Horse Album Review
24 July
Matt Garfield is just a man with a keytar and a hankering for metal.
He's also the one-man wrecking crew behind the band Mose Giganticus – handling all the songwriting, lyrics, vocals, drums, and synthesizers himself with a rotating cast of characters backing him up on guitar and bass both live and in the studio – kind of like Trent Reznor and Nine Inch Nails.
Gift Horse is the band's major label debut on Relapse Records.  The brand of metal that is put forth on this album is difficult to nail down.  It should be no surprise that a keytarist liberally uses synthesizers and vocoder in his music, but Gift Horse isn't industrial metal in the vein of, say, The Downward Spiral; nor is it anything like the recent bastardizations of synth in metal like The Devil Wears Prada or Attack Attack! (or any other group of kids wearing neon shirts and sporting girls' haircuts while banging on a keyboard).
Metal and synths have traditionally walked a fine line together, and the band that successfully incorporates one with the other is generally the exception rather than the rule.  But after all is said and done, Garfield has managed to come out on top in that regard, seamlessly mixing the electronic elements with the metallic into a combination as fine as chocolate and peanut butter.
Throughout the album, the electronics and guitars fade in and out of prominence with Garfield expertly substituting synths for lead guitars on several of the tracks ("Days of Yore," "The Great Deceiver").  On others, they play more subtly in the background, and because of that, this is definitely an album that rewards multiple close listenings.  You'll pick up more textural sounds and details each time.  And while Garfield makes use of a vocoder for some passages, it's never offputting  (think of how Mastodon has made use of it on their last two albums.)  And speaking of Mastodon, Garfield boasts an impressive voice that straddles the line between singing and yelling a la Troy Sanders.
The lyrical scope on this record is pretty epic.  The seven songs detail a dialogue between Jehovah and Lucifer.  Each side starts off the album by laying out their mission statement ("Last Resort" and "The Left Path") and from there they go back and forth trying to determine who is "The Great Deceiver."  You'd expect this sort of thematic confrontation to come to a head in a climactic manner, and you'd be spot on.  The album ends with "The Seventh Seal" which is easily one of the best songs I've heard in a while.  It starts off with an elephantine stomp and ends with an amazing riff that is brutal in its simplicity and catchiness.  Oh yeah, and there's a killer proggy solo thrown in for good measure.  The lyrics are inspired by Genesis' "Tonight, Tonight, Tonight," as Lucifer proclaims "You'd keep telling me you're going to help me / that you're going to save me, but you won't / and now I'm in too deep / all I have left is sleep."  The emotion is palpable and the result is a perfect capstone to the album.
Mose Giganticus' major label debut isn't perfect – some of the more straight-ahead songs ("Demon Tusk") come across as a bit dull – but that may just be because they are surrounded by a fresh sound that is rare in the world of metal.  This is one Gift Horse that you should definitely look in the mouth.
Rating: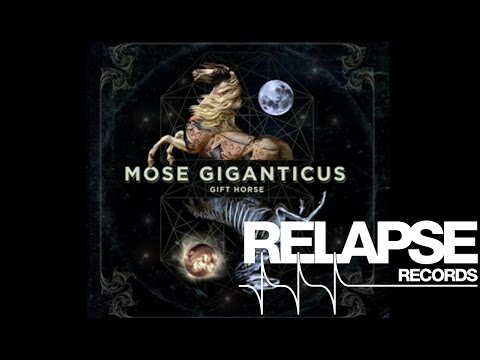 -Sam
3 Responses to "Mose Giganticus – Gift Horse Album Review"