Sully Erna – Avalon Album Review
28 February
When it comes to Sully Erna, lead singer of Godsmack, there are tons of people who have already written him (and his band) off.  While I'm not one of those people, I can sorta understand where they're coming from.
Erna, consciously or not, has the tendency to put forth a tough guy image (maybe it's just the Boston accent?) and some of his singing can veer into James Hetfield levels of extraneous exclamations.  A lot of his lyrics and songs are also rather simplistic, dealing with base emotions of anger and power and frustration.  But even though I like to get down with some dense conceptual prog-rock, I don't see the reason for the backlash against Erna and Godsmack.  There's a right way and a wrong way to do simple alternative metal, and Godsmack gets it right more often than not.
But as you can see from the title, this ain't about Godsmack.  Erna has released his debut, long-in-the-making solo record, Avalon.
This album is a showcase of Erna's talents as a singer, and from a purely technical point of view, he can bring the goods.  We all know what he's packing in terms of barks and yells from his work in Godsmack, but he's also done his fair share of singing in that band as well.  Avalon is just a further step in fleshing out that aspect of his abilities.  In fact, a strong comparison can be drawn between this album and Godsmack's acoustic EP The Other Side.
If you are one of the few people who has never heard "Voodoo" before, Erna's singing voice is a rich, deep tone that elicits a sense of mysticism and spirituality.  And these have long been obvious influences on Erna's songwriting.  When Godsmack isn't singing about how pissed off they are, Erna can usually be heard chanting about some mystical something or other.  And that influence fully takes over on his solo record.  Let's just say it works much better in moderation.  There's only so much intoning about spirits and sinning and souls that I can take before it all melds together into gobbledygook.  The best songs on Avalon take a more concrete path.  "My Light" is  a sweet ode to his daughter, and "Until Then…" tackles the specter of biding one's time until a reunification with a loved one (although he could just be talking about the afterlife, so yeah).
The music, like The Other Side, is almost completely stripped down and unplugged.  As you'd expect, there is lots (and I mean lots) of tribal hand drumming.  He also plays piano and brings in some hired hands to play other assorted percussion as well as cello and strings.  This fleshes out the sound, but to what end?  And that's the key question I was left with after listening to this album.  What was Erna trying to accomplish here?  These songs are all fine, I suppose, but they're no different from the ones Godsmack would insert in their albums as a change of pace.  In fact, when presented as a whole unit, as they are here, these songs lose their luster quickly.  Erna might be a technically sound and pleasant singer, but there's nothing immediate or essential about these solo tracks.  This is just a perfect example of how context can define a song.  Slipping a "Voodoo" or "Serenity" at the end of a Godsmack album allows them to stand out vividly against the preceding angst.  On Avalon, everything fades away without distinction.
Rating: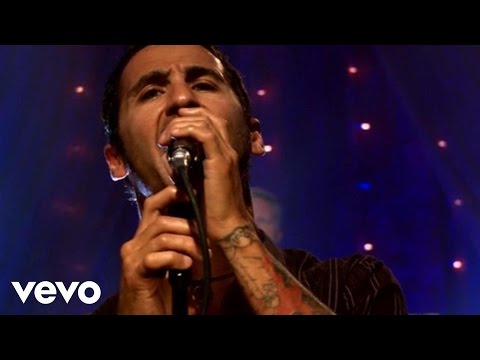 -Sam
3 Responses to "Sully Erna – Avalon Album Review"