Posts Tagged 'Lady Gaga'
Sixth-grade talent shows are usually pretty painful events – full of ear-bleeding recorder solos, boy band dance routines, and a magic show or two.
But this kid absolutely owns his performance – of Lady Gaga's "Paparazzi" no less.  And I'm not even saying this is good in the "It's good for a sixth-grader" way.  No, this is actually good good.  Like this little guy should seriously think about pursuing this talent.  And aside from the amazing singing voice, he's got all the confidence in the world in his performance.  And I'm sure that has to be at least a little hard when you're a guy singing a Lady Gaga song to a bunch of your sixth grade classmates.  Think of the potential beatings that could entail!
But no one can really make fun of him after that performance.  Just watch the girls' faces in the background.  Once they realize what song it is, they're all like "Oh no he isn't!" and are ready to laugh him off.  But he's got them in the palm of his hand by the end and gets an appropriately enthusiastic applause.  And keep an eye on the blond in the back row.  You can literally see her falling in love with this kid by the second.
All I can say is that he better have won first place.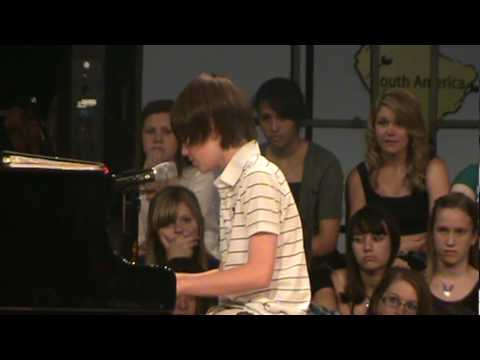 -Sam