Posts Tagged 'Max Weinberg'
The Max Weinberg 7 is no more.
Anyone following this situation can't be all that surprised, but Max Weinberg is officially out as the leader of Conan O'Brien's band and thus will not be following the funnyman to TBS where his new show Conan begins November 8th.  It was pretty obvious that Max was leaning that way when he hadn't committed to the show so close to its arrival.  Instead, he will be concentrating on his role as the leader of his own Max Weinberg Big Band, an ensemble group that he is touring with around the country.
Taking over as the leader of Conan's band will be guitarist Jimmy Vivino, which makes sense since he would be the one to lead the band whenever Max took a leave of absence to go on tour with Bruce Springsteen.  Regular fill-in James Wormworth (he of the no-shoes drumming style) will be taking over Max's position.
This is no doubt a big loss for Conan, since Max was a subtly hilarious presence on the show.  Making awkward situations funny is a very difficult comedic skill to nail, but Max seemed to do it with ease.  And plus, he was always willing to get the ASS stamp or play the skeevy perv.
So it's only fitting that as we say goodbye to Max's tenure on TV with Conan, we remember all the good times they had together: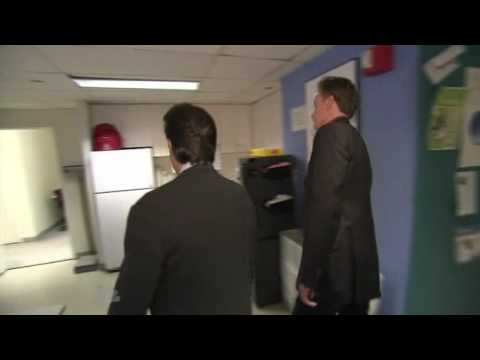 -Sam