Posts Tagged 'Maya Rudolph'
Let me get this out of the way right up front, since I'm reviewing a "fake rap" comedy album–yes, I understand that comedy is, by its very nature, subjective, and senses of humor are wildly divergent; but really, the same thing can be said about music in general, and yet there are still widely assumed standards of quality (ex. Adele is good; Jessica Simpson is not). I'm not sure it works quite the same way for mainstream musical comedy, but the charismatic, sidesplitting force of The Lonely Island is indisputable (or should be, at least).
That being said, I don't expect everyone to get a kick out of The Lonely Island's third record, The Wack Album. But for anyone who turns their nose up at it with disdain definitely has a faulty sense of humor. That's just a fact.
Call it immature. Call it a puerile collection of dick jokes and sex jokes. You're absolutely right. In fact, by my count, exactly half of this album's twenty tracks include a dick joke or penis reference in some form or another (there's some testicle joking as well, simply to make sure the entirety of the male's sexual anatomy was covered, one would assume). A fifty percent concentration of dick jokes actually seems tame in retrospect. But the larger point here is that there's nothing wrong with sophomoric sex gags if they make you laugh. And despite how it may seem, I think people underestimate the comedic skill it takes to properly pull off such crude, adolescent jokes, particularly in a musical format. That's the real genius of The Lonely Island–they've elegantly melded slick, modern hip-hop beats with unsophisticated and raunchy lyrics.
Saturday Night Live returned for its thirty-sixth season this past weekend, and not only was it consistently funny throughout the entire show (unfortunately a rare feat these days) but it managed to slip in a subtle dig at the recent controversy surrounding Katy Perry and Sesame Street.
In case you didn't know, Miss Katy (as Elmo calls her) taped a segment for the long-running children's program in which she sang an altered and censored version of her song "Hot 'n Cold."  Here's the clip: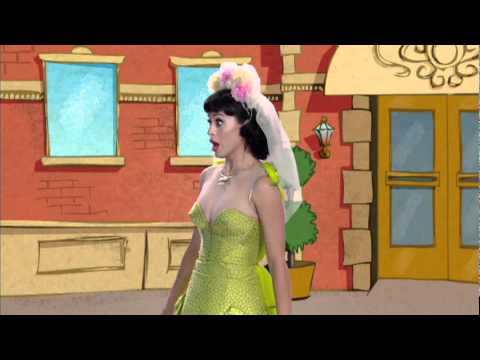 Personally, I think it's pretty harmless and kinda cute (side note: is it just me or is the way that Elmo runs hilarious – like he's perpetually sitting on the toilet wiggling his legs?).  But clearly not everyone agrees with me.  You see, it only took three days after the clip was posted online for the show to be inundated with parents freaking out over Perry's attire.  "You can practically see her tits," wrote one. "That's some wonderful children's programming."  Unfortunately, but also unsurprisingly, Sesame Street bowed to the pressure and opted to not air the segment.