Posts Tagged 'Metallica'
Everyone has an opinion and here is mine: many of the so-called "legendary" rock bands are terrible. Perhaps it is because i am looking back in history at many of these bands/artists and was not there in their heyday, perhaps it is because i do not use drugs, or maybe i'm just an ungrateful curmudgeon who is bitter because these bands sold billions and trillions of records and my demo tape is going nowhere collecting dust in my closet. Either way, below is a list of bands that i think are overrated, intolerable, and un-listenable; bands who make me reach for the off button and swear off the radio every time I hear a song by any one of them.
Aerosmith- Perhaps my most reviled band; I don't like anything about them. I don't like the music or the personalities, the album art, the interviews, or "Wayne's World."  Steven Tyler's lyrics could be the worst thing about this band, though. Here is a sample from the "classic" song "Last Child:"
Yes sir, no sir
Don't come close to my
Home sweet home
Can't catch no dose
Of my hot tail poon tang sweetheart
Sweathog ready to make a silk purse
From a J Paul Getty and his ear
With her face in her beer
Heh? What is he talking about? I don't like to make fun of people, so I'll hold my fire there. However, I can't say I'd ever buy a book written by Mr. Tyler. Also, I don't ever want to hear "I Don't Want to Miss a Thing" again.
Also, American Idol is rock and f'n roll.
Boston/Journey- I can't stand these "power rock" bands and their endless balladeering. Sure, it's nice to have an epic, powerful song, but when EVERY SONG is similar, going for the same feeling, the effect is lost on me. It's the same reason I can't really listen to Comeback Kid anymore. There is something to be said for diversity and creating an album, not just a disc full of singles which you hope to have memorable hits with.These two bands really exemplify the excess and uselessness of radio rock, too. The album art is probably the worst I've seen, too, and I like Slayer. At least these bands didn't put their own pictures on their album covers…
the Eagles- I think this is just due to the fact that Don Henley rubs me the wrong way. I'll give you Joe Walsh; "Rocky Mountain Way?" "Life's Been Good?" Sure, I'll take those songs. Anything by the Eagles, though, is just Top 40 dreck to my ears. Or maybe it's just that I don't like California. Regardless, I don't want to hear this band again. And I'll never understand why their greatest hits album is one of the best-selling albums ever.
Metallica- I really tried with this band. I bought "Master of Puppets" and I liked it in high school, but now, I just can't get into it anymore. Perhaps my view is tainted by the albums this band put while I've actually been alive, but regardless, I just think of "St. Anger" and "Re-Load" every time I hear a song by this band. "Harvester of Sorrow?" I'm sure it's a good song, but I just see the clenched fist of "St. Anger" in my mind; I see Lars Ulrich sitting in the courtroom, bringing Napster to its end; I see James Hetfield with short hair, I hear his radio-rock voice, I think of the "Black Album," and the effect is lost on me. Sorry, I know I shouldn't judge the music by the personality, but I've done it with all the other bands I've written about in this silly article, so why stop now?
Green Day- I hate pop-punk, but I really, really hate Green Day. Perhaps what most infuriated me about this band was that "American Idiot" album. I just couldn't get away from the grenade artwork, that "Boulevard of Broken Dreams" song, any of that stuff. It was everywhere! The band made famous for songs about marijuana, masturbation, and an album named "Dookie" are now political experts who know more than people who actually know what they are doing? Cool. All we need now is Gwar's new "serious" anti-war album, or that new opinion column by Will Ferrel in the New York Times and the world will be a better place.
What "classic" bands do you hate? Are my opinions invalid, way off-base? Am I a moron? Probably. Comment below!
Kirk Hammett is definitely my favorite member of Metallica.
He's generally a quiet dude who goes about his job of churning out killer riffs and shredding solos while not doing too much to disturb the often times volatile personal chemistry between Lars and James.
But apparently he's got a hidden dark side.  Namely, he kicks little girls off stage during concerts.  Literally, kicks them off stage.  Don't believe me?  Just watch the video: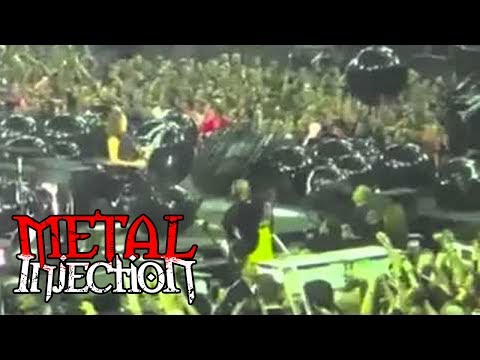 Okay, so maybe it's not all as pernicious as it sounds.  The girl, who is the daughter of the band's stage manager, was standing on the edge of the stage as huge black beach balls fell from the rafters.  Hammett was in the process of kicking them as they fell to the stage, and I can't really blame him for not seeing the half-pint kid standing behind one of the balls that he decided to boot.  The band released a statement saying that the girl was not physically hurt.  Maybe in the future, her dad will have the sense to "manage the stage" a little better and move his daughter out of the way of flying orbs.
-Sam
Lissie (full name Elisabeth Maurus) first came to my attention (and undoubtedly many others) when she posted an exquisitely triumphant live cover of Kid Cudi's hit song "Pursuit of Happiness" on YouTube.
The performance had all the hallmarks of a great cover – the song's foundation remained firmly in place so that it was recognizably derived from the original, but it was presented with just enough new context and impassioned delivery to make it an entirely new experience unto itself.
Lissie then saw increased traffic flowing to two earlier covers that she had also posted to YouTube – one for Metallica's "Nothing Else Matters" and the other for Lady Gaga's "Bad Romance".  Both songs further established Lissie as an artist with undeniable talent.  But the question remained – could she pull off the same magic with her own original songs?
After all, it's pretty hard to make a career solely as a YouTube cover artist.
Avenged Sevenfold have always been a band that I felt mixed emotions about.
On the one hand, I was opposed to their whole brand of shallow, image-obsessed, machismo-drenched pap.  On the other hand, their technical skills, particularly on guitar, are absolutely top-notch.  Not only that, but they write undeniably catchy songs.  It's just so hard to get into a band if you think they're a bunch of douchebags.
But the potential has always been there to rise above their collective flaws, which is why I gave this band another chance to win me over with their new album Nightmare.
And I'm glad that I did.  Nightmare is the definition of everything that can be good about the genre of pop metal.
I was perusing Kid Cudi's Facebook page when I came across this awesome cover he posted of his song "Pursuit of Happiness" by Lissie.  I hadn't heard of Lissie, an Illinois-based indie rocker, but this cover is so damn good, I'm gonna have to check her out.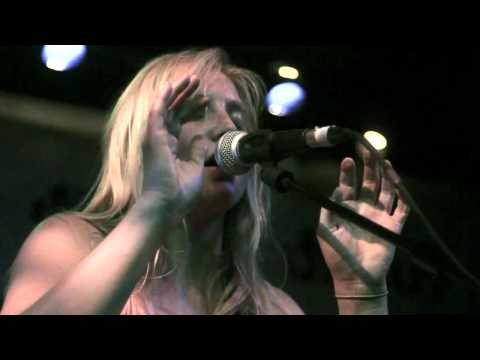 Lissie's debut album, Catching A Tiger, is out now in the UK.  Us Americans (as opposed to U.S. Americans) will have to wait until August 17th to get it here in the States.
Check out a couple more sweet covers she's done after the jump:
Here's a look at what's happening in the world of hard rock and metal:
*Kylesa, the sludgy stoner metal band that released one of 2009′s best albums in Static Tensions, is once again back in the studio for the time being demoing material intended for a new album.  They are set to begin officially recording the new album at the end of May.
*Journalist Mick Wall is working on a Metallica book that will cover most of the group's history.  Wall was close with the band in its early days and has recently reconnected with them to conduct interviews.  The book should come out in October.
*If any of you cares, here's a tentative track list for Limp Bizkit's new album Gold Cobra, and yes, it's full of terrible song names like "Douchebag," "GFY," "Middle Finger," and the awesomely awful duo of "Introbra" and "Outrobra."
*The story of how Mastodon chose their name.  Thank god they didn't pick Savage Hamper.
*The Sword has finished work on its third album.  If it's done, why the hell won't it be released until late this year?
*Serj Tankian's new album, Imperfect Harmonies, is tentatively scheduled to come out in September.  It will have 11 tracks, heavily featuring electronics.  One song will be sung in Armenian.
-Sam
I'll say this about Serj Tankian – the man is fearless.
That's the only way to describe his latest solo project, Elect The Dead Symphony, which saw him get up in front of the Auckland Philharmonia Orchestra, a 70-piece ensemble, (in a dashing white suit no less!) and perform completely new orchestral arrangements of his heavy metal material.  And make no mistake, this wasn't a Metallica S&M style concert, where the electric guitars and yelling were accompanied by bombastic orchestral scores.  No, this was an entirely new imagining of his songs as purely symphonic pieces.
Sound like a huge disaster?  Well, Serj does have at least one thing going for him in this regard and that's his voice.  Simply put, Serj has a massive set of pipes, a huge range, and anyone familiar with his work in System of a Down knows that his singing has a uniquely operatic style.
Unfortunately, just because his voice may be up to this monumental task does not mean that his songs are.
Here's a sampling of some interesting stuff going on in the world of metal:
* Mudvayne has debuted their new video for the song "Beautiful and Strange."  It's the second video in a three part series.  And it didn't take long for the video to be banned from all major outlets.  One viewing and you'll understand why.  Censors don't usually take kindly to buried-alive fallen angels digging up the graves of surprisingly full-chested naked, dead women and then proceeding to mount them and bang them silly all while images of torture and a girl actually getting her lips sewed together flash on screen.  But hey, that's fuckin' metal!  Go watch the necrophiliac's dream over on VampireFreaks.com.
* Killswitch Engage have a new song, "My Obsession," on the new God of War video game.  Stream it at Noisecreep.  (It's really good.)
* Check out the cover art for Sevendust's new album, Cold Day Memory, and prepare to be severely underwhelmed.  Seriously, that's the best you could come up with?
* Deftones have released the track list for their new album, Diamond Eyes.
* If anyone (like me) was hoping Limp Bizkit might return to the sound of their first album and/or their last album (aka more emphasis on the band, less on Fred Durst and rapping) this news should dash those hopes: Rappers Raekwon and Paul Wall will both have guest appearances on Gold Cobra.
* Dutch violin player, Karianne Brouwer, has a really cool cover of Metallica's "Nothing Else Matters":
-Sam
So with the 2010 Winter Olympics wrapping up last night, I thought I'd take a look back at one of the highlights of the games.
And before I begin, I readily admit that I did watch some of the ice dancing on television.  Hey, the girls are generally hot and wearing skimpy outfits, so sue me.
The thing with most ice skating events is that the music tends to be really similar, generic stuff.  The skating rink is not really the realm of risk-takers when it comes to musical choices.
That's why I almost jumped out of my chair when I heard the opening notes to Great Britain brother-sister duo Sinead and John Kerr's ice dance routine.  You see, I'm a huge Linkin Park fan so I knew immediately that they had chosen "Krwlng" as their music.  Love 'em or hate 'em, the choice of Linkin Park was undeniably risky in such a setting, even drawing a remark from the commentators for the adventurous decision.
But you know what?  It actually worked – really well.  The song comes off the band's Reanimation album, which is full of remixes, and the song features mainly electronic elements as opposed to guitars, lending a more ethereal tone to the song.  There's some screaming on there too, and I have to believe that caught more than a few audience members off guard.
Ice skating needs more people like the Kerrs who are brave enough to step outside the boundaries of traditional musical choices and embrace some newer ideas.  I know it got me more interested in what I was watching.
Here's a video of the Kerrs performing the routine back in January: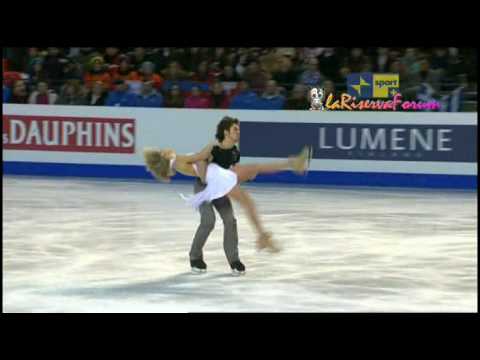 Also, after the jump I've included a hilarious Metallica-inspired re-imagining of Evgeni Plushenko's routine from the Olympics.
Here's a sampling of some interesting stuff going on in the world of metal:
* Anyone who watched the second season of VH1′s Celebrity Rehab is quite familiar with former Guns N' Roses drummer Steven Adler's drug problems.  That man has done a lottttt of drugs.  So in true rockstar fashion, it makes sense that Adler would release a book detailing his experiences with those drugs.  Titled My Appetite for Destruction: Sex, and Drugs, and Guns N' Roses, Adler's tell-all is scheduled to be released on June 22.
* Drummer Will Hunt has been chosen to replace Craig Nunenmacher in Black Label Society.  Hunt has most recently worked with Evanescence and Dark New Day.  He likely will continue to pull double duty with Evanescence and BLS.
* Slash recently collaborated with Fergie on a cover of GNR's "Paradise City" to be included as a bonus track on Slash's upcoming solo album.  I guess he got a lot of flack for it, so he took to Twitter to defend Fergie's performance (which can be heard HERE).  He said: "Until now, not too many people have heard Fergie sing rock &  roll but she sings it better (than) most dudes I know. She's a screamer at heart."  He then said in an interview that Fergie has talked about wanting to make a rock record outside of the Black Eyed Peas and that he would like to work with her on it.  I actually think Fergie could pull that off, but maybe I'm in the minority in that belief.  There's no question that she has a really strong voice tailored to dirtier rock and roll as opposed to having her voice drowned in computer effects like on "Boom Boom Pow."  I'd be at least interested to hear more rock songs from her.
* 10 Years will be entering the studio soon to start work on their third album, Feeding the Wolves.
* Nonpoint have debuted their new song "Miracle."  Listen to it HERE.
* Ray Davies of The Kinks will be releasing a collection of new versions of old songs.  He said that he would like to talk with Metallica about collaborating on a song.  If you remember, Davies joined Metallica onstage at the 25th Anniversary of the Rock And Roll Hall Of Fame where they performed "You Really Got Me" and "All Day And All Of The Night."
-Sam