The Black Keys – Washington, D.C. 03/09/12 Concert Review
10 March
It's safe to say that our nation's capital got rocked last night; and in a proper manner for once.  Instead of the endless stream of political skullduggery that generally has this city on the move, last night's proceedings were all about sweet, sweet music.
The Black Keys, headlining their first ever arena tour, made their trek's sixth stop at the Verizon Center in Washington, D.C.
Some (presumably uninformed or simply ridiculous) people questioned whether the Keys would be able to successfully make the transition to the arena-sized scale.  For a lot of bands that have slogged away for years in the club atmosphere, this is a perfectly valid question to ask – and these two guys from Akron certainly have been waiting a long time for this moment to come.  But, come on, seriously?!  Have you heard any of the records they've put out in the past four years?  The Black Keys have crafted a sound that is built for the spacious confines of an arena like the Verizon Center.
Before I get into the Keys' performance, let me just briefly touch on openers The Arctic Monkeys.  I should say that going in, I had absolutely zero expectations for this band.  I never got into the whole British new wave of garage rock that these guys spearheaded back in the early aughts.  That whole scene never appealed to me or demanded my attention and so I was legitimately ready for anything as far as their performance went on this night.  To their credit, The Arctic Monkeys acquitted themselves nicely, in the sort of manner that any opening band can – they managed to avoid causing displeasure and impatience.  A few tracks were catchy (notably "Fluorescent Adolescent") and all were pleasantly unobtrusive enough, but nothing stood out so much as to call for further examination upon my return home.  Still, not bad.
Then it was the Keys' turn, and they literally came out howlin' with "Howlin' For You," the first of six songs in a row culled from their most recent three albums.  While there aren't any giant divides in the band's catalog, they naturally focused on the shinier, more polished material from their newest records.  Those are the songs that vaulted them into this headlining slot after all.
The stage production was minimalist and singer Dan Auerbach's crowd banter was restricted to little more than, "Let's keep this thing moving."  With the Keys, it's hard to imagine it working any other way.  There's a reason you don't see a slew of blues rock bands like the Keys headlining these shows, and that's because to get there you've got to keep your nose to the grindstone and prove yourself to a much greater extent than most pop singers and Top 40 hucksters.  But this is one blue-collar blues attack that was destined to be filling these venues.
It's safe to say that I may have never heard a cleaner, more sonically well-produced show in my life.  And I'm saying this as someone who saw the show from the nose-bleed section, with ear plugs in, and a head cold that was having its way with my ear canals.  Auerbach's falsetto soared over his own funkified guitar tones and the amazingly workmanlike drumming from Patrick Carney.  The guitar work was the perfect amount of fuzzy and ferocious.  About halfway through the set, the Keys' two backup touring musicians left the stage, and Dan and Patrick proceeded to rock the house as a tightly wound twosome, starting off with the old school ruckus of "Thickfreakness."  How they managed to summon the kind of bombast they did with just the two of them was truly awesome.  Shortly thereafter came one of the night's highlights – "Little Black Submarines" – at first a melodic lament and then a crushing riff freakout.  I should take this moment to note how great a pleasure it is to watch Carney, positioned at the front of the stage and hunched over in his awkward positioning, beating those skins like they owe him money.  I'm still waiting to see the guy who winds up the little crank on his back before he goes out on stage every night – this guy's a machine.
The band departed the stage after running through a rendition of their hit "Lonely Boy," but if one were to judge by the foundation-shaking foot stomping that engulfed the upper bowl, the crowd wasn't finished quite yet.  After a short respite, the band made their way back onto the stage, which was now accompanied by a giant black disco ball floating overhead.  Along with the first notes of "Everlasting Light" came the twirl of the disco ball and the entire arena was bathed in its glittering light.  This was truly a time-bending moment, as I could have pictured that moment being replayed any time since my parents were going to concerts.  Timeless music sounds the way it does for a reason.  On the penultimate song of the night, "She's Long Gone," I'm pretty sure Auerbach reached a Rock God moment as he shredded through a dirty, fuzzy solo as bright, golden stage lamps washed over him.  Ah, who am I kidding?  The Black Keys have been playing like rock gods for years now.  It's the public that has finally caught on enough to afford them a stage suitable to their grand sound.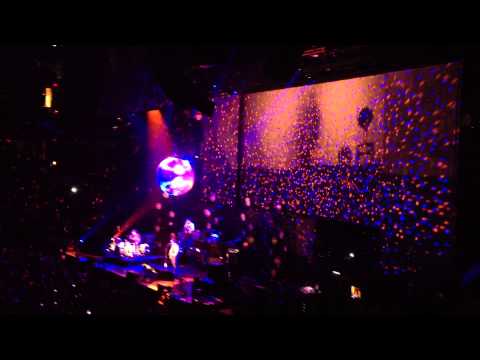 -Sam